2023 Season
OHAC is closed for 2023. See you next year!
OHAC is proud to offer a variety of programs, including:
Non-Profit
OHAC is a 501(c)(3) non-profit organization run entirely by neighborhood volunteers. In 2015 we celebrated 50 years!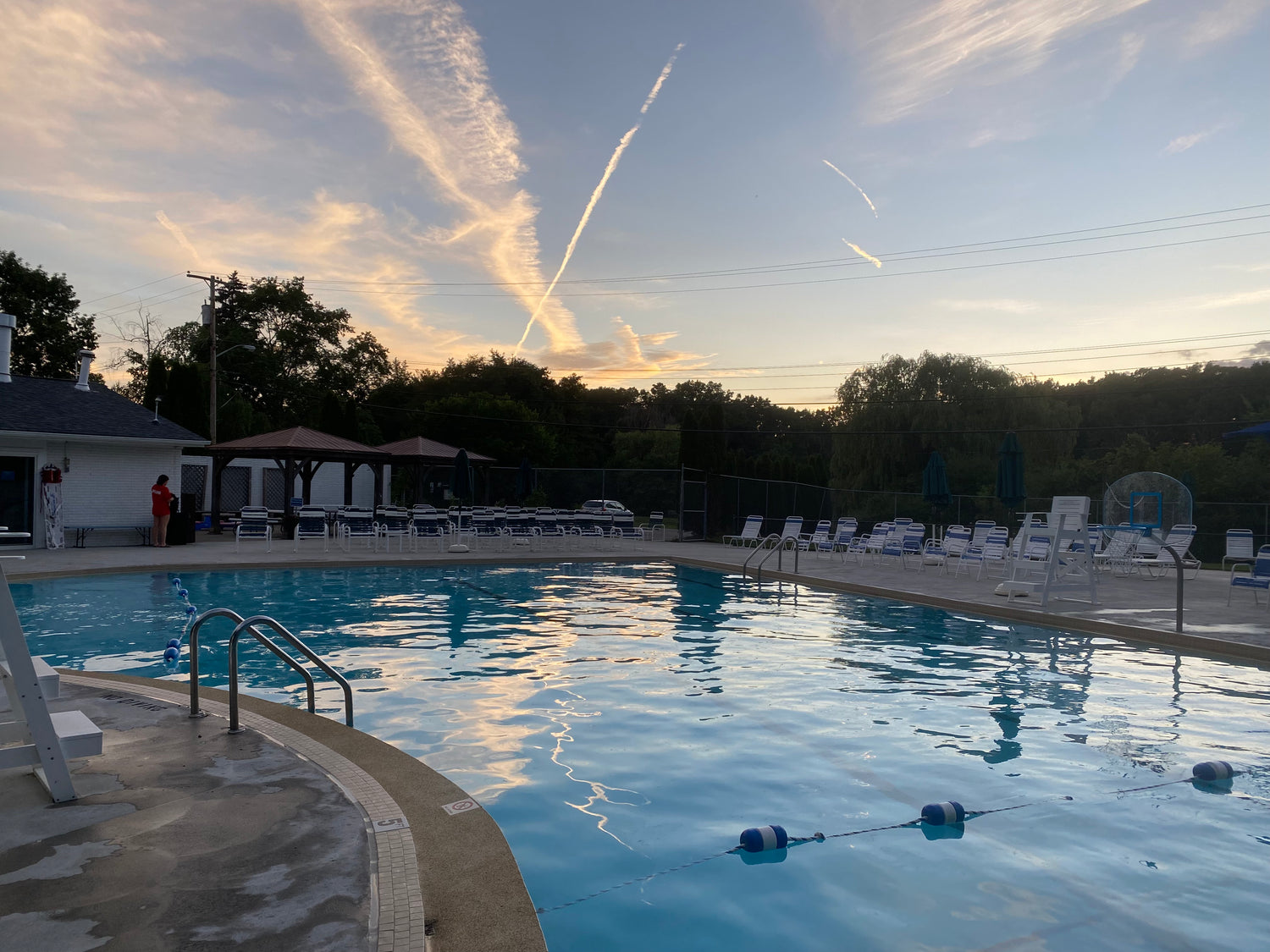 Swimming Pools
We have two outdoor heated pools, a diving board, BBQ grills, a volleyball court and plenty of lap lanes.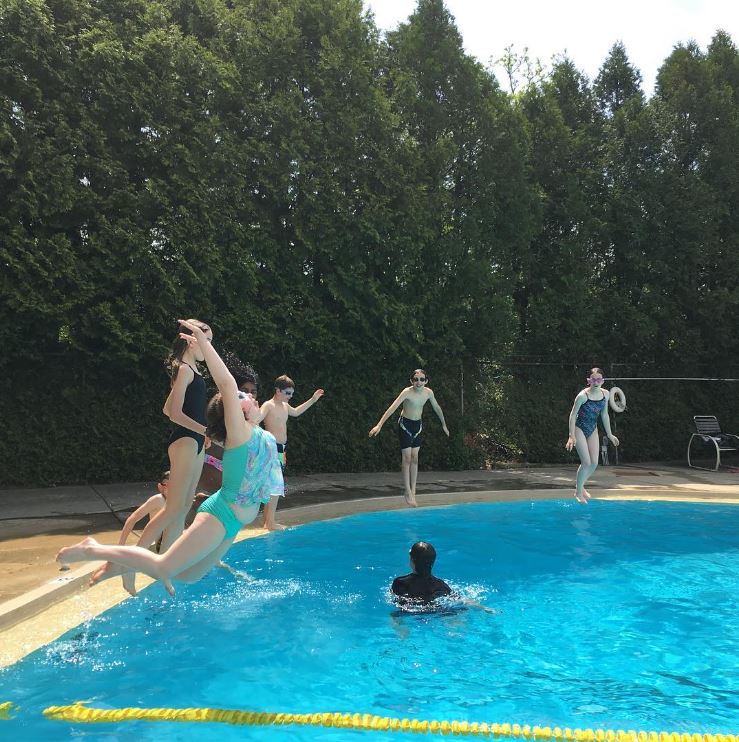 Summer Fun!
From swim and dive team to Wine Down Wednesdays and our 4th of July party, OHAC is the place to be for kids and adults all summer long.
FAQs
What is OHAC?

Orchard Hills Athletic Club (OHAC) was established over 50 years ago as a community pool on the Northeast side of Ann Arbor. We have two pools, OHAC Pool (2300 Yorktown Drive) and Dolfin Pool (2050 Prairie St). We offer extensive youth water sport instruction (competitive swim and dive teams, water polo, group swim lessons) and adult recreational activities (lap swimming and yoga classes.) Membership in the pools provides additional access to the pools for open swim and private parties, private swim lessons, organized social events, and discounts on club activity fees. Membership also supports the mission and sustainability of the pools. We are a not-for-profit organization 501c(3) run by community volunteers.
When is OHAC Pool open?

From May 27th-June 9th: OHAC Pool is open from 4PM-8PM, Monday through Friday, and 12PM-8PM on the weekends. Note that from 5:30-6:30 PM each day, OHAC Pool hosts lap swim, during which time open swim will be limited to the kiddie pool area. No pool toys will be allowed in the water during this time.

From June 10th-August 27th: OHAC Pool is open from 12PM-9PM, 7 days a week. Note that from 5:30-6:30 PM each day, OHAC Pool hosts lap swim. From June 12- August 24, OHAC's kiddie pool will be closed from 5:30pm-6:30pm every Monday-Thursday so that group swim lessons can take place. On Friday, Saturday, and Sunday from 5:30-6:30PM, open swim will be allowed in the kiddie pool area. No pool toys will be allowed in the water during this time for the safety of our lap swimmers.

August 28-31, hours will be from 4:00pm to 8:00pm, lap swim 5:30pm-6:30pm

September 1-3, hours will be 12:00pm to 9:00pm

September 4, hours will be 12:00pm to 8:00pm
When is Dolfin Pool open?

June 10th-August 27th:

Monday-Thursday: 3pm - 7pm
Friday-Sunday: 12pm - 8pm
Lap Swim: One lane is always available and can be reserved in Membersplash. You're always welcome to use this lane to swim laps if it's open, but online reservations take precedence. Starting June 12th we also have early morning lap swim available at Dolfin from 6:45am-8:45am. These are reservable in 30 minute blocks through your Membersplash account.
August 28th-31st, 6:45am-8:45am lap swim only
September 1-4, 12:00pm-8:00pm
Membership FAQs

How are membership rates determined? The OHAC board approves an annual budget.  Through this process, we factor in the fixed costs of operating and maintaining the pools, labor cost of staffing the pools, historical membership levels, and the prices of competing pools. By members agreeing to volunteer, OHAC is able to keep the costs of running two pools as low as possible. 

Who can be on my family membership? Immediate family members in your household and caregiver if applicable (see below).

Can my caregiver be included in my family membership? If you have a caregiver for the summer, they are welcome to bring your children as your surrogate. Please include their name along with your family membership application. 

Can I get a discount for when I go on vacation? No, It would be very difficult to give everyone vacation discounts. In 2023 we are offering a ½ season membership from either Memorial Day - July 15th or July 15th - Labor Day.

If I purchase an individual membership, can I go to the pool with my child? Each person that goes to the pool must have a membership, or be a guest of a member (and each guest is limited to 10 times per summer).  If your child is 12 years or older, you can purchase an Individual membership for them.  Depending on the number of people in your household, you might also consider a two-person  household or full family membership.

Do I have to purchase a family membership if my spouse or I do not swim/go to the pool? If you have more than one child it is more economical to purchase a family membership. Family memberships are not priced by number of family members or how often individual members go to the pool. Those factors would be impossible for OHAC to manage. 

Can my child join the swim/dive teams if we are not members? Yes.  But OHAC members received a discount when joining the Gator swim/dive team!

Who qualifies for a two-person household membership? This was formerly the "adult couple" membership, but we wanted to broaden it to include any household type limited to two people ages 12 and up. This is not intended for a household with more than two people but only two household members that want to join.

Having trouble purchasing a membership online? Please email membership@ohacpool.org
What's your guest policy?

Non-members of OHAC are welcome to visit the pools as long as they accompany an OHAC member. If you want to purchase a Guest Pass ahead of time, you can do so in MemberSplash by selecting "Make a Payment" from the "Payment" drop-down on your member homepage. Otherwise, we will bill your member account for a Guest Pass at check-in when you arrive at the pool. We are doing our best to go cashless which we hope will be easier on everyone!

Each Guest Pass costs $5 and is valid for one (1) visit to OHAC Pool or Dolfin Pool. If you leave OHAC to go to Dolfin accompanied by the same guest, you would need to purchase a new guest pass. 

Each guest is limited to ten (10) guest pass purchases per season. For example, if I want to bring my neighbor Bob to the pool, he can only visit 10 times per season. There is no limit on the number of different guests you can bring to the pool (i.e. teammates, friends, family members).
Do you close the pools for weather?

Safety is our #1 concern. The pools will be closed during thunderstorms and will reopen 20 minutes after the last occurrence of thunder or lightning. The pools will also be closed if the weather is too cold (less than 60 degrees). Weather decisions are always at the discretion of pool management. Feel free to call the pools to check whether or not they are open if the weather seems questionable.
How does volunteering work?

Our community runs on volunteers! When you buy a membership, we ask that you or someone in your membership household agree to volunteer during the pool season (~3 hours is the general guideline). In return we offer a $75 discount on your membership for volunteering.

You can choose how and when you volunteer each season. We reach out via email to members with volunteering opportunities throughout the summer. Some recent volunteer opportunities include: opening/closing the pools, snow shoveling, landscaping, helping out at social events, painting, and much more.

We do not require our 60+ years old members to volunteer (although many of them do!). OHAC is happy to sign off on group volunteer hours for high schoolers.

If you have any questions, please reach out to our Volunteer Coordinator at cynthia@ohacpool.org.
When can I swim laps?

At OHAC Pool: Daily from 5:30-6:30PM. OHAC Pool will have three (3) lanes available from May 28-Labor Day.

At Dolfin Pool: One lane is always available during open hours during the summer. This lane is limited to ONE swimmer.  6:45AM-8:45AM, Monday-Friday Dolfin will have five (5) lanes available. 

Rules for Lap Swimming: Lap lanes should be reserved in Member Splash from your account homepage under the "Reservations" tab. Lanes will open for reservation one week in advance. Up to 5 advance 30-min reservations can be made per week across all slots. Lap lanes can be shared by two swimmers. Reservations can be back-to-back if an hour of lap swimming is preferred. Swimmers can also reserve any open slot within 24-hours, and not have it count against their advanced reservations. If you don't show up within the first 10 minutes of your reservation, you can lose it if there is another swimmer on standby to swim.
What are the pool rules?

1. No talking to lifeguards while they're on stand. Lifeguards are there to monitor pool safety, and distracting them can be dangerous for other swimmers in the pool. If you need something from a guard, there's always a second lifeguard working off the stand who can assist you. Also - just a reminder that our lifeguards are mostly teenagers, so please treat them kindly as they learn and grow. If you have a question or issue that a lifeguard can't resolve, please reach out to our pool manager Sarah. 

2. Food must be kept to the eating areas (picnic tables at both pools)

3. Children 12 and under must pass our deep end test before they're allowed to enter the deep end at either pool. When your child is ready to take the deep end test, they should ask the off-stand lifeguard to take the test. 

4. No glass containers are allowed (broken glass and bare feet are a bad mix)

5. Showers are required prior to entering the pool

6. Non-toilet trained children must have an appropriate swim diaper to swim in the pool.

7. At OHAC: Members with strollers or using assistive devices may use the stroller door. All other members must enter through the shower rooms.

8. At Dolfin: No back jumps, flips, inward or reverse dives off diving board

9. No running on the pool deck

10. Children under 12 years old must be accompanied and supervised by an adult at all times while at the pools.
OHAC is non-profit membership organization in northeast Ann Arbor with two community pools

Learn more about us